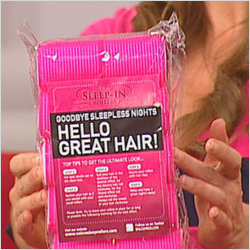 Sunday
Mostly Sunny
High 14°C
Low 8°C
Sorry, TV3 videos are no longer available to watch in your region
We now have a new home on the Roku box where all your favourite, award-winning TV3 programming as well as latest Irish news are available to view. For more information on how you can stay up to date with the best of TV3, please visit www.tv3.ie/roku
Tweet

20.07.12


Beauty expert Laura Bermingham helps us to overcome bad hair days.
BOUNCE
"Sleep-In Rollers" €20.99
They are the talk of the town and the beauty world at present with a slew of UK TV stars popping out to the shops in their sleep-in rollers. These sponge rollers are covered in Velcro to grip the hair gently and give great bounce and curl. The sleep-in part means that, unlike Velcro rollers of old which had a hard shell, these will flatten when you lay your head down at night.
Aside from overnight curling they are just as useful during the day, lightly spritz the roots of the hair before you pop in the roller and spray a little all over when all the rollers are in place for extra hold when you take them out. 20 rollers are included in the free pretty pink storage bag.
Check the web site for Irish online orders, the rollers are available in a number of Irish chemist chains also.
LIFT
SHU UEMURA "Volume Maker" €40, 01 6045935 for stockist's.
Volumising powders are a blessing for those who have no natural lift in the hair or who have fine hair. They are different from dry shampoos which contain oil-absorbing ingredients like corn starch and talc because they are designed for 1 or 2 day old hair which is getting a little greasy. Volumisers are primarily silica which will also suck up oil but in a preferable way. The powder becomes invisible on contact with the hair and it is a natural thickener which is amazing on flat roots. SHU is one of the most exclusive global hair brands and this product offers something other volumisers don't, an application brush which allows you to apply the product quickly and evenly, a difficult feat with regular silica powders.
FRIZZIES
Garnier Fructis "Crystal Resist Hairspray" €4.04, stockist's nationwide.
Summer is the season for frizzies (when it's not raining) and the reason is heat and humidity. Fine-haired fillies suffer most of all because not only does their hair fall flat but then the frizzies attack, double trouble! What they need is a finishing spray that will seal the hair shaft to stop moisture retention from humidity, a little added shine that doesn't cause the hair to "drop" and strong hold that can be easily brushed out. So, it's just as well Garnier have created this hairspray that does all three then!
BEACHY
TIGI CATWALK "Salt Spray" €18.50 Peter Mark, other salons check
Inspired by fashion and designed by hairdressers, TIGI introduces Catwalk Session Series; a high-performance styling collection enthused by all that makes the season's 'it' look worthy of the runway.
This Salt Spray aims to give you those great beachy waves you get after swimming with none of the damage you get from the sea! The spray gives the hair that tousled loose curl and allows you to make the hair look texturised even when clean, it's also a good definition spray for braiding the hair in that natural "barely made an effort" that is perfect for Summer.
Spray into wet hair to add body or in dry hair for tousled texture.
REPAIR DESPAIR
L'Oreal "Absolut Repair Blow-Dry Spray" €16.80, professional salons nationwide.
By Summer's end the hair can be in need of a lot of TLC especially if you have exposed it to a lot of sun and sea damage. L'Oréal Professionnel introduces Série Expert Absolut Repair Cellular, a new hair care range enriched with lactic acid designed to offer replenishing care for very damaged hair. Hair is left feeling stronger, smoother and softer. As well as shampoo/conditioner and various treatments is this leave-in Blow Dry Spray. A lightweight repairing spray to keep hair nourished and conditioned. Use before blow-drying or as a top-up treat throughout the day for added protection all day long.
Related video:
Web-only: Beauty Q&A
Beauty expert Laura Bermingham answers all your beauty questions.