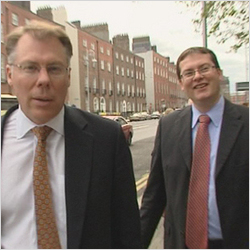 Friday
Windy
High 13°C
Low 5°C
Troika warns of health spending and unemployment
Sorry, TV3 videos are no longer available to watch in your region
We now have a new home on the Roku box where all your favourite, award-winning TV3 programming as well as latest Irish news are available to view. For more information on how you can stay up to date with the best of TV3, please visit www.tv3.ie/roku
Tweet

12.07.12


The Government has been warned that spending in health will have to be reined in and that unemployment remains unacceptably high.

The Troika review team also says the Government has been hitting all its targets so far under the bailout.

The are some areas of concern according to the Troika's statement today. They describe unemployment here as "unacceptably high".

The overspend in the Department of Health is also highlighted, with the government being urged to maintain "prudent control of expenditure".

The Troika did indicate that all of the bailout targets have been met so far. This opens up speculation that work on a better deal on Irish banking debt can now be stepped up.