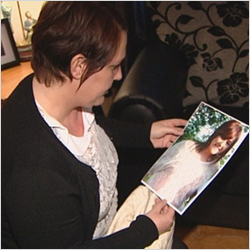 Sunday
Partly Cloudy
High 13°C
Low 8°C
Cork woman missing following Phoenix Park concert
Sorry, TV3 videos are no longer available to watch in your region
We now have a new home on the Roku box where all your favourite, award-winning TV3 programming as well as latest Irish news are available to view. For more information on how you can stay up to date with the best of TV3, please visit www.tv3.ie/roku
Tweet

09.07.12


Gardaí are seeking assistance in locating 19 year-old Aoife Finan from Cobh, County Cork who has been missing since Saturday night.


She has been missing since Saturday evening (07.07.12). Ms Finan attended the Swedish House Mafia concert in the Phoenix Park, and has not been seen since around 11pm on that night.


She is described as being 5'5'', medium build with brown shoulder length hair. When she was seen last she was wearing red leggings, purple and black wellington boots, a white t-shirt and a faded denim jacket.


Anyone with information about Aoife's whereabouts is asked to contact Cobh Garda Station on 021 4908530.


Criticism of the concert has been growing since it has emerged that several stabbing incidents took place during the event. One man has appeared in court in connection with one of these incidents.


Separately, a post mortem will be carried out today on the body of a man who died after falling ill at the concert.


Gardai say he was in his 20's, and was from Clonsilla in Dublin. The man had sought medical attention after falling ill and was brought to Connolly Hospital, Blanchardstown where he was pronounced dead.


Altogether, three suspected drug-related deaths are believed to have taken place at the event.


Around 45,000 people had gathered in the Phoenix Park on Saturday evening for a concert by Swedish House Mafia, Snoop Dogg and other acts.


Concert organisers MCD say that they are shocked at the anti-social behaviour, and are cooperating with the Garda investigation.


Swedish House Mafia, who headlined Saturday evening's concert, have released a statement through their Facebook fan-page. They said that "We played a festival in Ireland at the weekend and reports of incidents are coming to us. We didn't see anything but have asked for all the info and are respectful of the promoter's need to wait and give us all the clear facts."