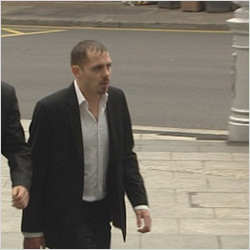 Wednesday
Windy
High 13°C
Low 4°C
Walsh accuser has sentence extended
Sorry, TV3 videos are no longer available to watch in your region
We now have a new home on the Roku box where all your favourite, award-winning TV3 programming as well as latest Irish news are available to view. For more information on how you can stay up to date with the best of TV3, please visit www.tv3.ie/roku
Tweet

06.07.12


Leonard Watters, who falsely accused Louis Walsh of groping him in a Dublin nightclub, has had his prison sentence extended after his appeal.


Watters lost his case and his 6 month sentence was extended to 11 months - with the final 5 months suspended.


The court had heard that the 24 year old unemployed dance teacher's claims had been a "cry for help" and that Watters was a "Walter Mitty" type character.


Judge Catherine Delahunt stressed the seriousness of the offence, and the fact that Watters continued with his allegations for 2 months before being confronted with the evidence that he was lying.


She said he had attempted to blame his current predictament on his upbringing and a serious accident he had had as a child. She also noted that he has made no attempt to address issues that are at the root of his problems.


Judge Delahunt said she was taking into account that Watters was remorseful and ashamed of his actions but said she believed a custodial sentence was appropritate.


She said that Watters risk of re-offending was in the upper moderate range unless the issues that he has are addressed.