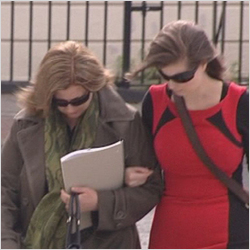 Wednesday
Windy
High 14°C
Low 4°C
Clayton's PA gets seven years
Sorry, TV3 videos are no longer available to watch in your region
We now have a new home on the Roku box where all your favourite, award-winning TV3 programming as well as latest Irish news are available to view. For more information on how you can stay up to date with the best of TV3, please visit www.tv3.ie/roku
Tweet

06.07.12


Adam Clayton's PA has been sentenced to seven years for stealing almost €2m from the bassist.

Mother of two, Carol Hawkins was found guilty of 181 counts of theft last week and was sentenced today.

The 48-year-old committed the crime over a four year period which saw her spend the money on a lease for a New York apartment as well as courses for her kids among other luxuries.


Her barrister told the court said she isn't a devious woman and doesn't have any money squirrelled away for after her release.


Hawkins was driven away to begin her jail term, ironically in a van marked with the security number U2.


Adam Clayton wasn't in court to hear the sentencing.