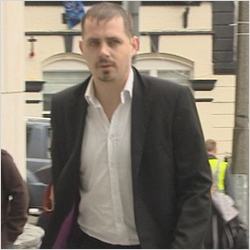 Thursday
Showers
High 10°C
Low 5°C
Walsh accuser appeals jail sentence
Sorry, TV3 videos are no longer available to watch in your region
We now have a new home on the Roku box where all your favourite, award-winning TV3 programming as well as latest Irish news are available to view. For more information on how you can stay up to date with the best of TV3, please visit www.tv3.ie/roku
Tweet

02.07.12


Leonard Watters is appealing the six-month prison sentence handed down to him after he made two false accusations that Louis Walsh had groped him at a Dublin nightclub in April 2011.


Mr Watters first made the accusations to a Garda on Harcourt Street on the night he claimed the incident occurred. He then lodged an official complaint in June 2011.


His Solicitor, Ciara Walsh, said that Watters was a "Walter Mitty" type character, and that he has suffered from post-traumatic stress disorder ever since being burned as a young child.


The court also heard that Mr Watters, who withdrew his complaint when CCTV footage didn't back up his story, had been starstruck by Louis Walsh and that his actions had been "the ultimate cry for help".


Mr Watters must now wait until Friday to find out if his appeal has been successful and whether he will avoid serving a prison sentence.