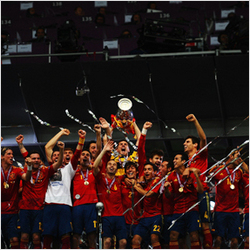 Thursday
Windy
High 11°C
Low 5°C
Spain claim Euro 2012 title
Tweet

02.07.12


Spain put themselves firmly in the record books as the first team to win three consecutive tournaments with a 4-0 win over Italy last night.

After Euro 2008 in Vienna and the 2010 World Cup in Johannesburg, Casillas and Spain completed an unprecedented hat trick for a European nation.

"To win three titles is almost impossible. Congratulations to the players," said Spain coach Vicente del Bosque, who followed Luis Aragones as coach after Euro 2008.

Goals from David Silva and Jordi Alba in the first half gave Spain a convincing lead at the Olympic Stadium.

Fernando Torres and fellow substitute Juan Mata scored in the last six minutes to turn victory into a rout.

Italy were forced to play with ten men for the remaining 30 minutes as their final sub, Thiago Motta came on and five minutes later was carried off with a hamstring injury.


The triumphant Spanish team are now preparing to celebrate their homecoming by travelling through Barcelona on an open top bus.


They will bask in the adulation of thousands of fans after being received by King Juan Carlos and Prime Minister Mariano Rajoy later on today.


Top Spanish newspaper El Mundo even said that the now-legendary team could be the cure for Spain's rampant economic problems.


A line in today's edition of the paper reads "The solution to our problems: the government of prime minister Del Bosque and his ministers".