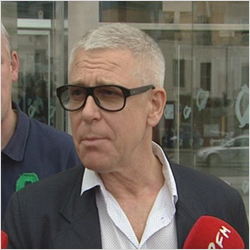 Tuesday
Partly Cloudy
High 17°C
Low 8°C
Former U2 PA found guilty of theft
Tweet

29.06.12


The former personal assistant of U2 bassist Adam Clayton has been found guilty of stealing €2.8 million from two of his bank accounts.

Carol Hawkins had pleaded not guilty to 181 counts of theft from Mr Clayton's accounts between 2004 and 2008.

However, the court has found her guilty on each count.

Carol Hawkins had worked for the U2 musician for 17 years, as a housekeeper and subsequently as his personal assistant.

Clayton said that she had gained his 'absolute trust' and was signatory on two of his bank accounts.

In 2008, she confessed to spending €13,000 on flights to see her children in the US and London.

Further investigations revealed that she had spent up to €2.8 million on exotic holidays, luxury goods, horses, gambling and an apartment.