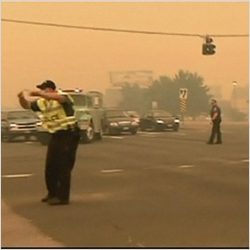 Wednesday
Windy
High 13°C
Low 4°C
Colorado fire doubles in size
Sorry, TV3 videos are no longer available to watch in your region
We now have a new home on the Roku box where all your favourite, award-winning TV3 programming as well as latest Irish news are available to view. For more information on how you can stay up to date with the best of TV3, please visit www.tv3.ie/roku
Tweet

28.06.12


800 fire fighters are battling a deadly wildfire in the US State of Colorado, which has now doubled in size.

Evacuation orders have been issued for residents of Colorado Springs, and over 32,000 people have so far been forced to flee their homes.

Dry, hot temperatures are hampering efforts to contain the blaze.