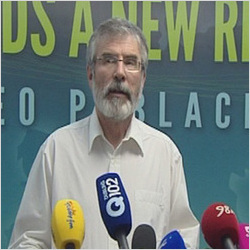 Friday
Windy
High 13°C
Low 5°C
McGuinness to shake hands with the Queen
Sorry, TV3 videos are no longer available to watch in your region
We now have a new home on the Roku box where all your favourite, award-winning TV3 programming as well as latest Irish news are available to view. For more information on how you can stay up to date with the best of TV3, please visit www.tv3.ie/roku
Tweet

22.06.12


Sinn Féin leader Gerry Adams has confirmed that Martin McGuinness has been given the go ahead by party representatives to shake hands with the Queen at a Co-operation Ireland event in Belfast next week.

The event will celebrate arts and culture throughout Ireland.

Speaking after the party's Ard Chomhairle meeting today, Mr Adams said, " "Because this involves Martin meeting the British monarch this will cause difficulty for Republicans and nationalists who have suffered at the hands of British forces in Ireland over many decades.

"However, in the context of conflict resolution and national reconciliation, as well as our own republican national objectives, the Sinn Fein Ard Chomhairle agreed that Martin should accept the invitation," he added.

Mr Adam said that his party wishes to achieve democratic objectives, including the end of partition and unifying the people of Ireland through national reconciliation and transformation.

And as a result, Sinn Fein believes that the Northern Ireland Deputy first minister should accept the Co-operation Ireland invitation.

Up until now the party has stayed away from events attended by the Queen.