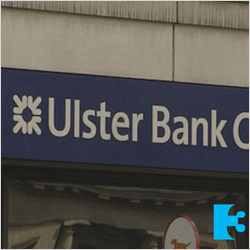 Monday
Drizzle
High 15°C
Low 7°C
Ulster Bank identifies technical glitch
Sorry, TV3 videos are no longer available to watch in your region
We now have a new home on the Roku box where all your favourite, award-winning TV3 programming as well as latest Irish news are available to view. For more information on how you can stay up to date with the best of TV3, please visit www.tv3.ie/roku
Tweet

22.06.12


Tens of thousands of Ulster Bank customers are expected to have trouble accessing their bank accounts this weekend.

Demonstrators protested outside one of the bank's branches in Dublin city centre today as they faced a third day without funds.

Spokesperson for the bank, Teri Kelly has confirmed that the root cause of the systems error has been identified by RBS and that the problem will be rectified by Monday.

In a statement she said, "We are currently working to process the backlog of payments and update customer balances and expect to be fully operational by Monday 25th June.

"We appreciate the impact that this issue is having on our customers and on customers of other banks and again we unreservedly apologise for this."

Despite the bank's efforts, the glitch drew harsh words from the Minister for Social Protection after 30,000 social welfare payments were delayed.

It has been reported that up to 40,000 HSE staff were also left without salary payments.

Ulster Bank has assured affected customers that they will not be left out of pocket.

"Customers who have incurred fees or charges as a result of this issue will be fully refunded in due course," said Ms Kelly.

80 of the bank's branches will remain open until 7pm tonight to try and accommodate affected customers.

"We have also extended the opening hours of 60 of our branches tomorrow – they will now open from 10am until 3pm. In addition, we will open approximately 20 of our largest branches on Sunday from 10am to 1pm," Ms Kelly added.