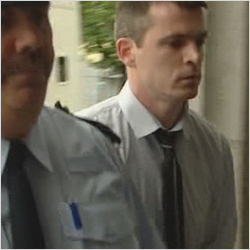 Friday
Windy
High 13°C
Low 5°C
Lynch gets 13 years for manslaughter of child
Sorry, TV3 videos are no longer available to watch in your region
We now have a new home on the Roku box where all your favourite, award-winning TV3 programming as well as latest Irish news are available to view. For more information on how you can stay up to date with the best of TV3, please visit www.tv3.ie/roku
Tweet

19.06.12


The man charged with the manslaughter of a five-year-old girl, in a house fire in Roscommon, has been sentenced to 13 years in prison this morning.

33-year-old John Lynch with an address at Church view in Boyle, pleaded guilty to the manslaughter of Mari Connolly, and to causing harm to her father Richard on October 3rd 2011.

The accused had a dispute with an uncle of the little girl, who also lived in the house on Termon Road in Boyle.

Mari and her two sisters were staying in the house that night as their mother was in hospital having twins.

The sentence was handed down at Roscommon Circuit Court in the last hour.