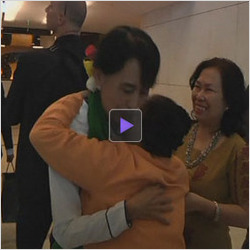 Wednesday
Windy
High 13°C
Low 4°C
Doctor fears for Aung San Suu Kyi's health
Sorry, TV3 videos are no longer available to watch in your region
We now have a new home on the Roku box where all your favourite, award-winning TV3 programming as well as latest Irish news are available to view. For more information on how you can stay up to date with the best of TV3, please visit www.tv3.ie/roku
Tweet

15.06.12


Aung San Suu Kyi's doctor has expressed concern that the Nobel Peace laureate's tour of Europe could take a toll of her health.

Her concern comes after the leader fell ill at a Swiss press conference yesterday and had to cancel a dinner citing exhaustion and jet lag.

Today Suu Kyi is due to visit the Swiss Parliament and is scheduled to accept her Nobel Peace Prize in Norway tomorrow.

Her two week European itinery includes visiting Ireland on Monday.