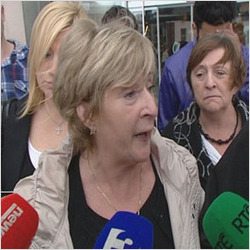 Thursday
Showers
High 10°C
Low 5°C
Victim's mother brands Toland sentence "a disgrace"
Sorry, TV3 videos are no longer available to watch in your region
We now have a new home on the Roku box where all your favourite, award-winning TV3 programming as well as latest Irish news are available to view. For more information on how you can stay up to date with the best of TV3, please visit www.tv3.ie/roku
Tweet

15.06.12


The mother of a man who was fatally stabbed in Dublin in 2008, has branded the nine year sentence handed to his murderer "a disgrace".

36-year-old Martin Toland was found guilty at the Court of Criminal Appeal today for the manslaughter of his friend Alan Nolan in Ballyfermot in 2008.

He was given a nine year jail sentence, with two and a half years suspended.

Toland was also found guilty for the assault of James Carroll who tried to diffuse the tragic fight between Toland and the victim.

The offender was convicted in 2010 for the murder of Alan Nolan but the conviction was overturned following an appeal.

He had argued that he had stabbed both men in self-defence.

Judge Barry White said today that the appropriate sentencing for a fatal stabbing was 14 years but was constrained by the Court of Criminal Appeal from imposing the appropriate jail time.

Justice White said that fatal stabbings ought to attract lengthy sentences as elements in society resort to knives to resolve differences and have little or no respect for human life.

Following the sentencing, Alan Nolan's parents said they were "disgusted" at the sentence Martin Toland received for the manslaughter of their son.

The victim's mother also slammed the Irish Justice System, saying that victims are forgotten.