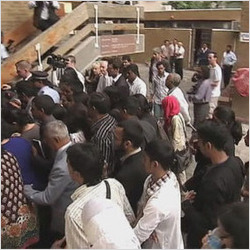 Thursday
Showers
High 10°C
Low 5°C
Police witness: Couple in footage not McAreaveys
Sorry, TV3 videos are no longer available to watch in your region
We now have a new home on the Roku box where all your favourite, award-winning TV3 programming as well as latest Irish news are available to view. For more information on how you can stay up to date with the best of TV3, please visit www.tv3.ie/roku
Tweet

15.06.12


The jury in the Michaela McAreavey trial watched CCTV footage today, which showed a couple arguing at the Legends Resort Hotel on the day of Michaela's murder.

The trial judge told the court that the defence team believe and maintain that the couple in the footage are the McAreaveys.

However, police witness Assistant Commissioner Yoosoof Soopun told the court that he is 100 per cent certain that the arguing couple are not the McAreavey's but were in fact a German couple who have since been named and identified.

The court also saw footage of John McAreavey at the reception of the hotel, wearing shorts and carrying a beach bag at about 3.15pm on the day of the murder.

The newlywed looked agitated as he waited for a room key to go find his bride.

The couple had been having afternoon tea and she is said to have left to return to their room to get biscuits.

Michaela never returned.

Police believe that the 27-year-old was murdered a half an hour earlier at around 2.45pm

The court also saw images of the couple pictured together the day before the murder.

At this point John McAreavey started to cry and left the courtroom.

John McAreavey found the body of his young wife in their honeymoon suite on 10 January 2011.

The doctor who carried out the post mortem report said that she died from strangulation.

30-year-old Avinash Treebhoowoon and 42-year-old Sandip Moneea both deny the murder.

The trial in Port Louis has been suspended until Monday following a request for further CCTV footage.