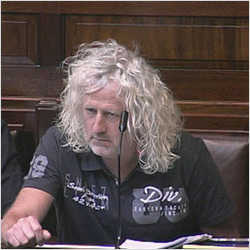 Sunday
Mostly Sunny
High 14°C
Low 8°C
Deputy Wallace's fate remains uncertain
Sorry, TV3 videos are no longer available to watch in your region
We now have a new home on the Roku box where all your favourite, award-winning TV3 programming as well as latest Irish news are available to view. For more information on how you can stay up to date with the best of TV3, please visit www.tv3.ie/roku
Tweet

13.06.12


The Dáil Committee on Members' Interests have yet to decide on Deputy Mick Wallace's fate in Dail Eireann.

The Committee has been requested to examine issues raised by the Wexford TD's statement whereby he acknowledged making a false VAT declaration to the Revenue Commissioners in respect to his construction firm M&J Wallace Ltd.

The members decided to write to Mr Wallace and and his firm before taking further action.

The Dail Committee met after a stormy session in the chamber this morning, which featured a heated row between Fianna Fail leader Micheal Martin and the Ceann Comhairle Sean Barrett.

Members hope to meet next week to consider the Deputy's and his company's replies.