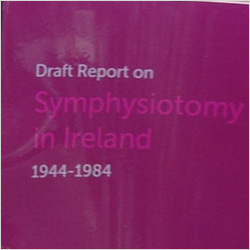 Tuesday
Mostly Sunny
High 16°C
Low 8°C
Symphysiotomy survivors dismiss leaked report
Tweet

13.06.12


Survivors of Symphysiotomy have dismissed a report due to be published tomorrow as an outrageous apology for a barbaric process.

It is estimated that up to 1500 Irish women underwent the procedure between the mid-1940's and mid-1980's in an era when a Caesarean section was accepted as a safe treatment for difficult births.

Holding draft copies of the Walsh report, survivors of the procedure gathered outside the Dail prior to a meeting with the Justice Committee this afternoon.

Survivors said that sometimes the operation was carried out without consent and are determined to continue their campaign for justice.

Chairperson for the 200 member group, Marie O'Connor in a statement said, "The widespread use of symphysiotomy from 1940s through the 1980s, in an era when Caesarean section was the accepted treatment for difficult births, constituted a form of institutional abuse. These mutilating operations were wrongful, unjustified and unjustifiable."

Ms O'Connor added that dangerous operation, "unhinged the pelvis, and led to lifelong disability, incontinence and chronic pain, done by doctors who were prepared to use a scalpel to control women's reproductive health."

The Walsh report suggests the use of symphysiotomies was at its peak in Ireland when it was in decline in the rest of Europe and that it was inappropriately used in a number of cases.

The survivors slammed the report and are questioning its independence.

Health Minister James Reilly said that the Walsh report is only one part of the process and that the women who are continuing to live with the lifelong effects of the procedure can be assured that this is not the end.