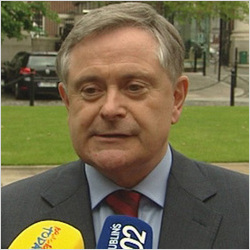 Thursday
Showers
High 10°C
Low 5°C
€900m saved on Croke Park deal
Sorry, TV3 videos are no longer available to watch in your region
We now have a new home on the Roku box where all your favourite, award-winning TV3 programming as well as latest Irish news are available to view. For more information on how you can stay up to date with the best of TV3, please visit www.tv3.ie/roku
Tweet

13.06.12


The Croke Park Agreement implementation body have announced €900m worth of savings over the last 12 months.

The deal between the government and trade unions has seen a reduction in the numbers working in the public sector.

Staff numbers have fallen by over 17,000 in the last two year and are down over 28,000 since 2009.

With 3,000 essential posts needed to be filled in the next year, savings are estimated to be in the region of €500m next year.

The Minister for Public Expenditure and Reform, Mr Brendan Howlin said, "This means the Agreement has achieved almost €1.5 billion in pay and on pay savings in its first two years. We should not lose sight of the fact that the Croke Park Agreement has enabled these savings to be delivered in a climate of industrial peace across the public service"