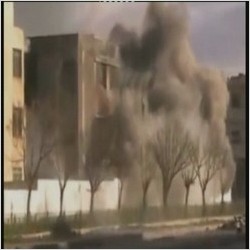 Sunday
Mostly Sunny
High 14°C
Low 8°C
Damascus experiences heaviest fighting to date
Tweet

09.06.12


Bullets and shrapnel shells smashed into homes in the Syrian capital overnight, as troops battled rebels in the streets, in the heaviest fighting yet in Damascus.

The violence marked an increased boldness among rebels in taking their fight against the regime of President Bashar Assad to the centre of his power.

For nearly 12 hours of fighting that lasted into the early hours Saturday, rebels armed mainly with assault rifles fought Syrian forces.

UN observers said rebels fired a rocket-propelled grenade at the local power plant, damaging parts of it and charring six buses, according to video the observers took of the scene.

Syrian forces showed the regime's willingness to unleash elevated force in the capital: at least three tank shells slammed into residential areas in the central Damascus neighbourhood of Qaboun, an activist said. Intense exchanges of assault-rifle fire marked the clash, according to residents and amateur videos.

At least 42 civilians were killed in violence around the country outside Damascus on Saturday, according to the Syrian Observatory for Human Rights, a Britain-based activist group.

Among them were 20, including nine women and children, who died in heavy, pre-dawn shelling in the southern city of Daraa, where the uprising against Assad began in March 2011.

The group's figures could not be independently confirmed.