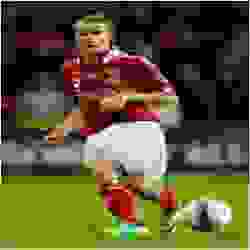 Tuesday
Mostly Sunny
High 16°C
Low 8°C
Denmark surprise Netherlands with 1-0 win
Tweet

09.06.12


Denmark secured the first huge surprise of the European Championship with a 1-0 victory over the Netherlands on Saturday in Group B.

Michael Krohn-Dehli that provided the finishing touch that the Dutch inexplicably lacked.

Krohn-Dehli scored against the run of play when he picked up a loose ball close to the penalty area in the 24th minute, left two defenders standing and shot through the legs of Maarten Stekelenburg from a tight angle.

It was something Premier League top scorer Robin van Persie never got close to as he came to symbolise Dutch futility with a couple of bad mistakes.

Denmark goalkeeper Stephan Andersen made several clutch saves to secure the most important Danish victory over the Netherlands since the Euro 1992 semi-finals.