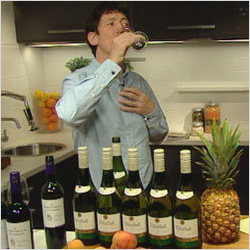 Thursday
Showers
High 10°C
Low 5°C
Sorry, TV3 videos are no longer available to watch in your region
We now have a new home on the Roku box where all your favourite, award-winning TV3 programming as well as latest Irish news are available to view. For more information on how you can stay up to date with the best of TV3, please visit www.tv3.ie/roku
Tweet

08.06.12


Our wine expert David Whelehan has hand picked some great wines from the Superquinn sale which are perfect for a summer BBQ. And all for under a tenner!

Theme - Barbeque wines for €9 or less
This week David will be cherry picking four wines from the Superquinn wine sale that will complement perfectly barbeque fare and the good news all the wines are €9 or less!

Crémant de Loire Rosé €17.99 down to €9 - Superquinn
This sparkling fizz at it's promotional offers really great value, hailing from the Loire Valley the home of some of France's greatest sparkling wine values. Brut in style, this is unequivocally a serious dry, food friendly wine. It's pink hue pulsates summer.

Torres Vina Sol 2011 €9.99 reduced to €8 Superquinn
This is a real fall back wine and for good reason, it is always reliable. Fresh, vibrant with good fruit character, this unoaked Spanish white always lends a certain pzzaz to outdoor events.

Doña Paula Los Cardos Malbec 2010 €11.99 to €7 Superquinn
Doña Paula is one of the most beautifully situated wineries in the world, framed in by the Andes, here winemaker David Bonhomi crafts some of Argentina's most respected wines, this entry level Malbec has wonderful, fruit, great poise and balance and it's ripe berry and spice flavours are perfect a sizzling steak or burger.

Wyndham Estate Bin 555 Shiraz 2010 €12.49 reduced to €8 Superquinn
This rich, rounded offering from South Australia needs little introduction. Year in year out it delivers a palate of rich, ripe fruit with some oak nuances. Exploding with black fruit flavours, its' ripeness and its' forwardness makes it perfect for savouring with grilled foods.