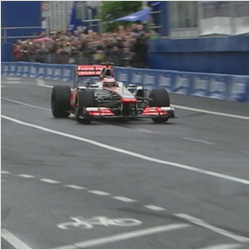 Sunday
Mostly Sunny
High 14°C
Low 8°C
Gardaí advise motorists to avoid Dublin City Centre
Tweet

03.06.12


Gardaí have advised motorists of a number of traffic restrictions that are in place in Dublin City Centre due to a number of events taking place there on Sunday (03.06.12).


Over 100,000 spectators are expected to visit Dublin to attend the Bavaria City Racing event which will see Jenson Button drive his McClaren Formula One car through the city. That event takes place from midday to 5pm.


The Bloom gardening and food festival is taking place in the Phoenix park while the Forbidden Fruit music festival will be on in the grounds of the Royal Hospital in Kilmainham.


Gardaí have also advised motorists to exercise caution on the roads in the rest of the country after a night of heavy rain. Four people have been killed in road traffic accident's since the Bank Holiday weekend began.