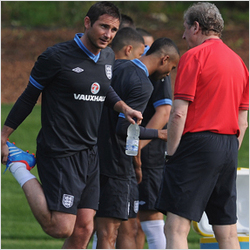 Wednesday
Windy
High 14°C
Low 4°C
Lampard set to miss Euros
Tweet

31.05.12


Chelsea midfielder Frank Lampard looks set to miss out on Euro 2012 after he sustained a thigh injury in England training yesterday.

The tear is in the same area as an injury that kept him out for three months of the 2010-11 season, Liverpool's Jordan Henderson has been put on standby.

He's due to have a scan today on the injury after which the FA will make an announcement about whether he'll be fit to play or not.