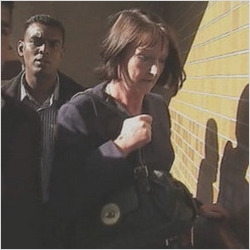 Wednesday
Windy
High 14°C
Low 4°C
No DNA evidence of accused found on Michaela
Sorry, TV3 videos are no longer available to watch in your region
We now have a new home on the Roku box where all your favourite, award-winning TV3 programming as well as latest Irish news are available to view. For more information on how you can stay up to date with the best of TV3, please visit www.tv3.ie/roku
Tweet

28.05.12


A UK forensic expert has told the Michaela McAreavey murder trial that there was no trace of DNA from the accused men on the victim's body.

Susan Woodroffe told the court that traces of DNA from Avinash Treebhoowoon and Sandip Moneea were not identified on a range of swabs taken from samples recovered from the hotel room where the newlywed couple were staying.

Ms. Woodroffe was also asked whether DNA of the accused and two other original suspects were found on samples taken from the bride's feet and fingernails.

"There is no specific indication that any of Raj Theekoy, Sandip Moneea, Avinash Treebhoowoon or Dassen Naraynen have contributed to the results obtained," she said.

Both 30-year-old Treebhoowoon and 42-year-old Moneea deny the murder of the 27-year-old newlywed in January of last year.

Treebhoowoon had initially admitted to police that he was involved but now claims that he was forced to sign the confession.

Michaela's husband John McAreavey was not allowed to attend today's proceeding until he is called to give evidence later this week.

His sister Claire and Michaela's brother Mark Harte have attended the hearing everyday.