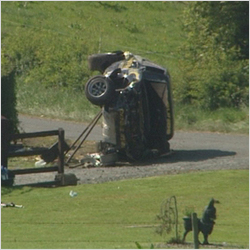 Thursday
Windy
High 11°C
Low 5°C
Gardai appeal for witnesses in Cavan Rally crash
Sorry, TV3 videos are no longer available to watch in your region
We now have a new home on the Roku box where all your favourite, award-winning TV3 programming as well as latest Irish news are available to view. For more information on how you can stay up to date with the best of TV3, please visit www.tv3.ie/roku
Tweet

28.05.12


Gardai have this morning said they want to hear from anyone who may have witnessed yesterday's accident at a rally in Co Cavan in which two people were killed.

Four people injured in the crash remain in hospital this morning and have been transferred from Cavan to Our Lady of Lourdes Hospital in Drogheda.

It's believed that one of the cars competing in the event lost control as it came over a small hill and crashed into a fence outside a house near Bailieborough where a group of spectators was standing.

The crash happened at around 11.30 yesterday morning and the rally was immediately suspended.

The two people who died were a 29-year-old pregnant woman who was attending the race with her rally driver boyfriend and a 50-year-old motorsports photographer from Co Galway.