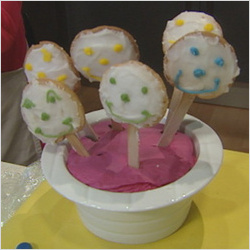 Saturday
Rain
High 11°C
Low 7°C
Food & Drink: Smiley Cookies
Sorry, TV3 videos are no longer available to watch in your region
We now have a new home on the Roku box where all your favourite, award-winning TV3 programming as well as latest Irish news are available to view. For more information on how you can stay up to date with the best of TV3, please visit www.tv3.ie/roku
Tweet

23.05.12


Catherine Leyden joins us to help get us in a happy mood as she bakes up some smiley faced cookies!



Ingredients
300g/11oz Odlums Cream Plain Flour
150g/6oz Butter (room temperature)
150g/6oz Caster Sugar
1 Eggs (beaten)
Few Drops Vanilla Essence
For Decoration:
Instant Royal Icing
Coloured Writing Icing
Lollipop Sticks
Method
1. Preheat oven to 180°C/350°F/Gas 4. Lightly grease large flat baking trays.
2. Beat the butter and sugar together until light and creamy. Add the egg and vanilla essence and mix well.
3. Gradually add the flour and mix until dough is formed. Wrap and chill for an hour.
4. Roll the dough out on a lightly floured board to a thickness of 3 - 4mm. Using a 5cms/2" cutter, Cut out the 'faces', dip the cutter into flour before each use. If putting the cookies/faces on a sticks, gently press stick into the dough!
5. Arrange them on prepared tins/trays and bake in a central oven position for about 12 minutes or until firm and golden brown. Leave to cool for 10 minutes then transfer to wire tray to cool.
6. When cold, spread icing on one side of each cookie, allow to 'set' then make a smile, nose and eyes with the coloured icing.
Note:
Above quantities may be doubled and large cookies/'faces' can be made!