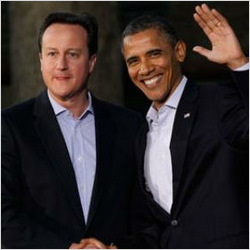 Thursday
Windy
High 11°C
Low 5°C
G-8 leaders put focus on Eurozone crisis
Tweet

19.05.12


The Eurozone debt crisis is expected to dominate the summit of the G8 group of major world economies this weekend.

President Barack Obama and leaders of Germany, France, Canada, Italy, Britain, Russia, and Japan were looking to build consensus framework with focus on increasing demand for goods and spurring job growth.

Obama established the tone for the G-8 on Friday after meeting with just-elected French President Francois Hollande, when he said the aim of the summit was to promote both fiscal consolidation and a "strong growth agenda."

The two leaders, Obama said "agree that this is an issue of extraordinary importance not only to the people of Europe but also to the world economy."

German Chancellor Angela Merkel is set to face calls from President Barack Obama and new French leader Francois Hollande for stimulus measures, analysts say.

Greece's possible exit from the eurozone is also on the agenda.