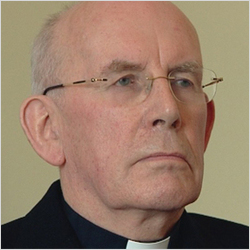 Thursday
Showers
High 18°C
Low 13°C
Cardinal Brady meets with advisers amid growing pressure
Sorry, TV3 videos are no longer available to watch in your region
We now have a new home on the Roku box where all your favourite, award-winning TV3 programming as well as latest Irish news are available to view. For more information on how you can stay up to date with the best of TV3, please visit www.tv3.ie/roku
Tweet

04.05.12


Cardinal Sean Brady is believed to have held meetings with his advisors last night, as pressure grows for his resignation.

Groups representing abuse survivors and a number of senior political figures have urged Cardinal Brady to consider his position, while the Taoiseach has said he should reflect on the allegations contained in a BBC documentary this week.

It claimed that the Cardinal knew of children at risk of abuse by paedophile priest Fr. Brendan Smyth in the 1970's, but failed to pass on the information.

Cardinal Brady has denied any wrongdoing, and has so far refused to step down.

In the last hour the Catholic Communications Office has denied a report that the Cardinal offered to stand down two years ago, but that this was not accepted by the Vatican.