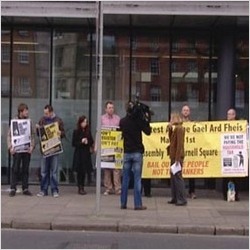 Tuesday
Mostly Cloudy
High 18°C
Low 14°C
Shatter tells household charge protestors to "get a life"
Tweet

31.03.12


Justice Minister Alan Shatter has told Sinn Fein and campaigners against the household charge to "get a life".

The Minister strongly criticised Sinn Féin and Independent TDs last night for opposing the controversial €100 tax.

"I think Sinn Féin and the promised protesters should just get a life," the Minister said, saying that "a mountain had been made out of a molehill".

However, his remarks have come under fire by protestors.

Ruth Coppinger of the Campaign Against Household and Water Taxes said that Minister Shatter and his party colleages "have no concept of real life" in Ireland.

"When you're a multi-millionaire lawyer, Minister, landlord, investor and property owner like Mr Shatter, then €100 certainly is a molehill," Ms Coppinger said.

"This magnificent mass movement of around a million households is a statement on four years of austerity and is highly significant," she added.

"We call on people to protest today at 1pm at Parnell Square marching to the FG Ard Fheis against the arrogance and bullying by Fine Gael on this issue."

Meanwhile the Local Government Management Agency said that at 10am this morning, they have dealt with 650,000 properties who have paid the charge.