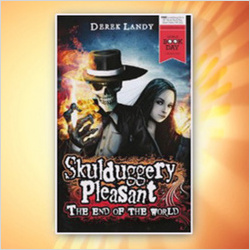 Thursday
Mostly Sunny
High 18°C
Low 16°C
Book Club: Skulduggery Pleasant - The End of the World
Sorry, TV3 videos are no longer available to watch in your region
We now have a new home on the Roku box where all your favourite, award-winning TV3 programming as well as latest Irish news are available to view. For more information on how you can stay up to date with the best of TV3, please visit www.tv3.ie/roku
Tweet

06.03.12


The End Of The World is a short story released on the 23rd-24th February (depending on the country), although it was originally intended to be released on March 1st for World Book Day
The End of the world is about a boy called Ryan, who after being taken by sorcerers, has his fate resting on Skulduggery and Val to save him and the world.
"Skulduggery and Valkyrie are back, in an exclusive World Book Day novelette, set after the momentous events of Death Bringer! Hey, punks! Skulduggery and Valkyrie are about to make your day! 15-year-old Ryan is running away from home, looking for escape and adventure. But unfortunately, sometimes people DO get what they wish for. Ryan hasn't gone far before he is set upon by a bunch of scary, nihilistic punk-sorcerers who need him to set off a doomsday device that will destroy the planet and everyone on it. Fun! Riding to the rescue, however, is a certain skeleton detective and his teenage partner/combat accessory.
Now Skulduggery and Valkyrie only have a few hours to figure out what's going on, while saving Ryan and -- incidentally -- the whole world. And all that time, the punk-sorcerors are closing in..." -Waterstones.
According to author, Derek Landy, on his blog, the novella will feature a shorter story featuring two of the winning characters of his latest create-a-character contest just for Australians and New Zealanders. One female character from the Australian winner, and one male character from the New Zealander winner. The contest ended on New Years Eve.
Facts and Figures
· The series has sold over a million copies in the UK and Ireland since it was first published in 2007 and the books have been translated into at least 33 languages.
· Total Skulduggery revenue for the book clubs is £150K across all titles. They've taken around 110,000 copies in total which is outstanding.
· Book 4 in the series - Dark Days - exploded into the top of the charts with a massive 12k copies in one week, reaching no.3 in the children's chart (behind Stephenie Meyer) and becoming the quickest selling Skulduggery HB ever!
· The sixth Skulduggery title, Death Bringer was released in September 2011 and went straight to the top of the UK Hardback charts.
· Dedicated global website www.skulduggerypleasant.com continues to get bigger and better with new downloads, widgets, wallpapers and web chats with author Derek Landy, and 45k Skulduggery fans signed up to hear the latest news.
· In 2011 www.skulduggerypleasant.co.uk has had just under half a million visitors with over 1.5 million page impressions
· Skulduggery Pleasant, won the Bord Gais Energy Irish Book of the Decade AND the Red House Children's Book Award
· His second book in the series, Playing With Fire, won an Irish Book Award for Children's Book of the Year
· Derek has won over 20 regional book awards since he was first published in 2007
· Skulduggery's secret weapon - The Munchkin Army. From the beginning, this has been a story of munchkin power. Kids have made Skulduggery the huge success it is. Right from the start, boys and girls alike have eagerly devoured these stories for their style, wit, and humour. They stand out from most series publishing in this respect - and they show that kids do not want a diet of gender-biased books fed to them. These are smart books for smart kids, and the smart kids have made them a success, evidenced by the ever growing list of awards where children have been able vote, starting with the Red House Book Award.
· The speed of Skulduggery's success - sales are growing impressively, with each new book outselling the last on launch. From his first event to a captive group of schoolchildren in north London, he is now commanding audiences of several hundred at each event, and generating queues of 3 hours for signings.
· The Irish Times' Shane Hegarty stressed Skulduggery's literary merit, describing it as "amongst the best plotted and funniest from any Irish writer in recent years". From the home of Roddy Doyle and Eoin Colfer, that's high praise indeed and gives us a great quote from a recognised literary paper.
· Derek himself is a major asset - funny, smart and with a great back story. His screenwriting, his working on the farm whilst writing Skulduggery, and his strange collection of movie memorabilia all add valuable texture to any feature.
· He lives in Ireland with a variety of cats, a German Shepherd, and two geriatric Staffordshire Bull Terriers who keep peeing on his kitchen floor because they think it's funny
He holds a black belt in Kenpo, trains in Krav Maga, and is a qualified bodyguard, making him possibly the only children's author who can officially protect himself when on tour.
Derek Landy, who is famous for the Skulduggery Pleasant series of books, was voted as the most popular Irish author of children's books.
The World Book Day poll results are based on a sample of 705 nationwide responses. The survey was facilitated by bookshops, children's organisations, teacher organisations and libraries all over Ireland as well as through various social media.
Now in its 15th year, World Book Day is celebrated in over 100 countries worldwide and annually teams up thousands of schools and pre-schools in Ireland, Scotland, England and Wales with bookshops and libraries for everything from sponsored dress-ups and competitions to big events with their favourite authors and illustrators.
As well as events all around Ireland, World Book Day is today hosting its first literary online festival - 'The Biggest Book Show on Earth' - featuring some of children's best-loved authors including Landy and fellow Irish author Eoin Colfer.
More than 500,000 groups and individuals in over 25 countries around the globe have signed up to view the show being streamed live to their computers.
A free World Book Day App for teenagers, containing specially-written short stories for World Book Day as well as videos and news, has also been released.
"World Book day 2012 is our most dynamic World Book Day yet. Our aim is to make sure that all children, regardless of circumstance, have access to books and to the magical worlds and wonderful benefits that reading opens up," said Bob Johnston, spokesman for World Book Day Ireland.