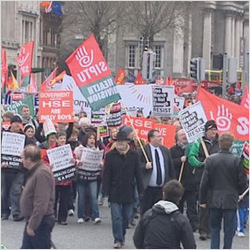 Tuesday
Cloudy
High 18°C
Low 14°C
Anti-austerity protest takes place in Dublin
Tweet

26.11.11


Around 2,000 people took to the streets of Dublin this afternoon to protest in a union led march against austerity.

Organisers were calling on the government to rethink its policy of austerity ahead of what is expected to be another tough budget for Irish people.

The march was backed by the Irish Congress of Trade Unions, SIPTU, UNITE and Mandate.

The ICTU president Eugene McGlone criticised the treatment of those on benefits as well as possible VAT rises at a time when disposable income levels were falling.