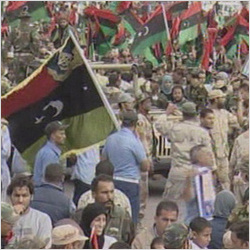 Wednesday
Partly Cloudy
High 19°C
Low 15°C
Plans for Gaddafi's funeral being formed
Tweet

24.10.11


Plans are being put in place for the funeral of Moammar Gaddafi.

The body itself, along with that of Colonel Gaddafi's son Mutassim, has been put on public display in Misrata.

A post-mortem carried out on Gaddafi's body concluded that he died from a single gunshot wound to the head.

The countdown to elections in Libya is now underway after the country was "formally" liberated by the National Transitional Council.