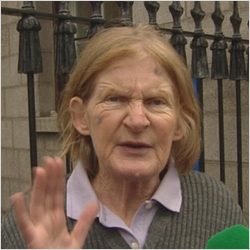 Wednesday
Partly Cloudy
High 19°C
Low 15°C
Woman jailed for blocking ESB
Sorry, TV3 videos are no longer available to watch in your region
We now have a new home on the Roku box where all your favourite, award-winning TV3 programming as well as latest Irish news are available to view. For more information on how you can stay up to date with the best of TV3, please visit www.tv3.ie/roku
Tweet

12.09.11


A 65 year old woman has been jailed for refusing to allow the ESB and Eirgrid cut down trees on her property. The High Court was told Teresa Treacy, from Tullamore, physically put herself in the way of workers who were trying to install power lines in the area.
Ms Treacy was given several chances in court today to avoid jail, but said she not be complying with two High Court orders directing her to allow the ESB and Eirgrid onto her property.
The court was told that Miss Treacy loves the trees on her land just outside Tullamore, some of which would have to be cut down to allow power lines to be completed.
On one occasion she put herself in the way of machines trying to carry out the work, and on another stood in the way of boltcutters.
Miss Treacy told a High Court judge today that she took the action for the sake of the natural environment. Mr. Justice Daniel Herbert told her that while he admired her principles, he could not condone what she was doing.
She was acting in defiance of the courts, he said, and if this was tolerated, Ireland may as well sink into anarchy. He said he would not allow this to happen.
Mr Justice Daniel Herbert gave Miss Treacy one last chance to comply with the orders, but she said no. He then said he had no choice but to jail her, telling her how long she spends behind bars is entirely up to her, but the law has to be upheld.