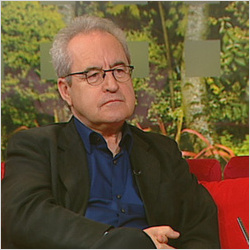 Tuesday
Partly Cloudy
High 17°C
Low 8°C
Bord Gais Energy Book Club: John Banville
Sorry, TV3 videos are no longer available to watch in your region
We now have a new home on the Roku box where all your favourite, award-winning TV3 programming as well as latest Irish news are available to view. For more information on how you can stay up to date with the best of TV3, please visit www.tv3.ie/roku
Tweet

19.07.11


John Banville has been described as one of the greatest literary stylists of his generation but in more recent years he has turned his hand to the world of crime fiction, under his pen name Benjamin Black.
His latest page turner under the Black pseudonym, 'A Death in Summer', sees the return of pathologist-turned-crime solver, Doctor Quirke and is this month's Bord Gais Energy Book Club choice.

A Death in Summer by Benjamin Black
When newspaper magnate Richard Jewell is found dead at his country estate, clutching a shotgun in his lifeless hands, few see his demise as cause for sorrow. But before long Doctor Quirke and Inspector Hackett realise that, rather than the suspected suicide, 'Diamond Dick' has in fact been murdered. Jewell had made many enemies over the years and suspicion soon falls on one of his biggest rivals. But as Quirke and his assistant Sinclair get to know Jewell's beautiful, enigmatic wife Françoise d'Aubigny, and his fragile sister Dannie, as well as those who work for the family, it gradually becomes clear that all is not as it seems.
Against the backdrop of 1950's Dublin, Benjamin Black conjures another atmospheric, beguiling mystery.

Benjamin Black is the pen name of internationally acclaimed author John Banville. His novels have won numerous awards, including the Man Booker Prize in 2005 for The Sea. He lives in Dublin.