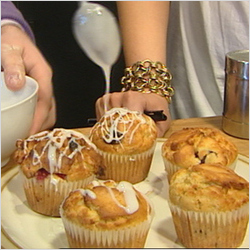 Sunday
Mostly Sunny
High 14°C
Low 8°C
Food & Drink: 'Never fail' muffins
Sorry, TV3 videos are no longer available to watch in your region
We now have a new home on the Roku box where all your favourite, award-winning TV3 programming as well as latest Irish news are available to view. For more information on how you can stay up to date with the best of TV3, please visit www.tv3.ie/roku
Tweet

28.04.11


Muffins are such a popular item for children's lunch boxes or birthday parties. They are also a wonderful treat for long lazy weekend breakfasts.

This is a very basic recipe, and I've suggested a whole series of flavours that you can add to the mixture. Basically, you can have lots of fun playing around with different alternatives.

Ingredients
1lb/450g plain flour
6oz/175g caster sugar
1 rounded teaspoon of baking powder
4oz/110g butter
2 large eggs
6floz/175ml milk
Flavouring of choice

Method
-Preheat oven to 180C/350F/Gas Mark 4
-Line a 12 cup muffin tray with muffin paper cases.
-Mix flour, sugar and baking powder together.
-Rub in the butter with the tips of your fingers.
-Break in the eggs and milk and mix to a stiff batter.
-Add in the flavouring of your choice at this stage and mix well.
-Spoon into prepared muffin tin (lined with the muffin cases) and bake for 20-25 minutes until golden brown and puffed up
-Dust with icing sugar and serve!
Or
-Mix 3 tablespoons of icing sugar with little boiled water until it reaches a running consistency and drizzle haphazardly over the top of the muffins.


Suggested Flavourings/Toppings:
White chocolate & raspberry: 3oz/75g white chocolate chips and 3oz/75g fresh/frozen raspberries
Lemon & blueberry: Grated zest of 1 lemon & 5oz/150g blueberries
Chocolate chip: 5oz/150g mixed chocolate chips
Apple & cinnamon: 2 eating apples, diced & ½ teaspoon ground cinnamon
Banana & milk chocolate: 2 ripe bananas, mashed and 3oz/75g milk chocolate chips
Cranberry & sultana: 4oz/110g fresh cranberries & 2oz/50g sultanas


Edward's Top Tip:
Before baking the muffins why not sprinkle some crumble topping over the top to add a different texture to the muffins

'Food to Love' by Edward Hayden. Launch is this Friday April 29th in the Springhill Court Hotel, Kilkenny at 8pm.