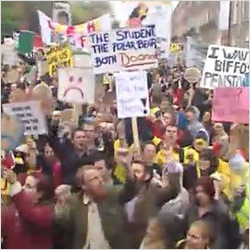 Tuesday
Mostly Cloudy
High 18°C
Low 14°C
Riot police deployed at Dublin student protest
Tweet

03.11.10


Tens of thousands of students took to the streets of Dublin today. They voiced their fury at plans to increase college registration fees.
Whilst in the Dail today Taoiseach Brian Cowen today refused to be drawn on the possible doubling of fees in next month's budget.
Up to 25,000 students from colleges across the State had joined today's march.
Trouble flared however when about 2,000 people gathered on Merrion Row close to the Department of Finance after the main march on Leinster House.
Witnesses said a brick and eggs were thrown at the building and that a group of about 15 students made it inside. Gardaí later ejected them.
A number of people were arrested.
The Union of Students of Ireland, which organised the protest, distanced itself from those who occupied the Department of Finance.
"USI is saddened by the actions of a small minority of people who staged a sit-in protest at the Dept of Finance, shortly after the USI protest march today. This anti-social behaviour was completely separate from USI's demo," it said in a statement.