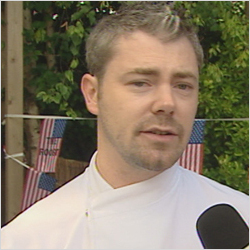 Wednesday
Partly Cloudy
High 19°C
Low 14°C
Food and Drink: Fourth of July
Tweet

02.07.10


We're having a fourth of July celebration of our own here in the garden as Neal Kearns, Head Chef of Louis Fitzgerald Hotel shows us how to prepare some simple but tasty BBQ food...
Fourth of July Barbacue Menu

Beer and chilli marinated Barbeque sausages with barbeque roasted onions

Beer and chilli marinated Barbeque sausages with barbeque roasted onions


Two cans of beer (Heineken or Budwieser)
½ tsp cayenne powder
1 meduim onion, sliced
150g unsalted butter
8 large sausages
6 hot dog baps
Barbeque onions
3 medium onions, sliced
½ tsp chilli flakes
2 sprigs thyme
A dash of grenadine


100g butterUsing a stainless steel tray, place it on top of a medium heat barbeque, add the beer, butter onion and the cayenne. Allow to heat until it is gently bubbling. Add your large jumbo sausages and allow to bubble gently for about 15- 20 minutes depending on the size of the sausage. Then transfer out of the bath straight onto the grill and colour the sausage until golden, serve straight away in a hot dog bun with the onions below or reserve in the beer bath to keep them warm.
Barbeque onions

Combine all the ingredients in a tinfoil parcel and place on the barbeque on a medium heat when you start cooking the sausages. Simple!
OTHER DISHES:

Green goddess dip
2 tbsp Mayonnaise
2 tbsp crème fraiche
2 spring onions finally chopped
1 bunch of parsley, chopped
1 bunch chives, chopped
½ bunch tarragon, chopped
1 lemon, zest and juice
Simply mix all the ingredients together and serve with an assorted mix of roasted vegetables, raw and blanched vegetables

Dilled potato salad500g baby potatoes
150g celery, finely chopped
150g dill, chopped
1 tbsp Dijon mustard
3 tbsp sour cream
3 tbsp mayonnaise
3 spring onions, finely chopped


Boil the potatoes in lightly salted water until just cooked, remove from heat, strain and allow to cool, in the mean time, mix all the other ingredients in a bowl and add a squeeze of lemon juice. Once the potatoes are cool, slice or dice them and simply mix into the dressing, refrigerate until needed. Remove from fridge about twenty minute before needed so to remove the chill from the salad.
Cabbage and apple slaw

2 Raw beetroot, peeled and grated
¼ raw cabbage, cored and finely sliced
1 small red onion, finely sliced
6 dollops of crème fraiche
2 apples, peeled and grated
Juice of one lemonCombine all the ingredients in a large bowl and mix well, coating everything with the crème fraiche and the lemon juice. Season with sea salt and cracked pepper, serve immediately or refrigerate until needed.
Peach cobbler with a cinnamon sugar
6 whole peaches or one tin of sliced peaches
125g plain flour
50g castor sugar
50g brown sugar
3g salt
½ tsp ground cinnamon
85g soft butter
Honey
Core and slice the whole peaches and place in a adequate roasting dish, run warm honey over the peaches and place in a pre heated oven at 160oC for about 10 minutes. Meanwhile combine all the other ingredients until they resemble a breadcrumb mix, remove the peaches from the oven and cover the peaches in the crumb mix.
Return to the oven for about 20minutes and serve warm with organic vanilla ice cream
Mint Julep
10 oz bourbon whiskey
8 tsp water
18 sprigs of mint
4 tsp brown sugarMuddle the leaves, sugar and water in a jug until the sugar has dissolved, add ice enough to fill the jug and then add the bourbon. Serve in a tall glass with a straw.