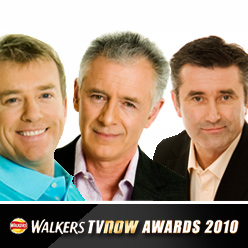 Saturday
Rain
High 15°C
Low 13°C
Favourite Male TV Presenter
Tweet
26.04.10

Mark Cagney, Alan Hughes and Martin King are all up for this award. May the best man win, and it's all down to you as to which male that will be.

Mark Cagney joined TV3 from his hugely successful mid-morning talk and music programme on Today FM, having been there since June 1998. Cork-born Mark started his career in broadcasting when he joined RTE in 1977.
He was part of the original line-up of 2FM, broadcasting on its first night on air. During his time with 2FM, Mark presented a variety of shows, from the seminal 'Night Train' to the 'Drivetime' show.
He won a Jacobs Award for radio in 1985. In 1989 Mark left 2FM to join Dennis O'Brien in applying for a radio license, which was to become 98FM. He was with 98FM for seven years, presenting the mid-morning programme and the late night talk show.

Click here to watch our interview with Mark.

CLICK HERE TO VOTE FOR MARK.


Alan Hughes was born in Ballyfermot to a family of six three brothers and two sisters. The performing bug was always there and it seems Alan was singing and dancing from the age of 4.
During his late teens, he went to theatre school, joined Irish Actors Equity and worked on a numer of major TV and film projects shot in ireland during the 80s and 90s, including the Irish RM, Remington Steele, Lovejoy, Micheal Collins and all the Irish TV soaps.
Alan is always in demand for corporate work and this year presented the first ever Miss Universe Ireland, live on TV3.
Outside of TV3, Alan has produced and starred in the most successful panto staged in Dublin every year and this year moves to the Tivoli Theatre to stage Peter Pan the panto for the first time ever in Ireland.

Click here to watch the interview with Alan.

CLICK HERE TO VOTE FOR ALAN.


When TV3 launched in 1998 Martin King became an instant hit. He is best known for bringing a twist to the weather and the nation's forecasts haven't been the same since.
His personality driven style of weather forecasting has won Martin many awards and he is one of the main features of TV3's news presentation. Martin has been involved in radio since he was fifteen working with some of the more successful pirate radio stations including Big D and Sunshine 101.
He spent 9 years working at 98FM as one of their main on-air personalities before moving to TV3. Returning to the airwaves in 2002 Martin had his own Saturday Morning show on Today FM called Roll Over with Martin King. T
here are a number of charities that Martin supports. The ISPCC, The Meningitis Foundation, The Baby Max Wings Of Love Fund, The Marie Keating Foundation are just a few of the causes that Martin is happy to give his time to. Martin is a keen sports fan, GAA and soccer being the two he enjoys the most.
Martin lives in Dublin with Jenny and their children.

Click here to watch the interview of Martin with his co-host Sybil.

CLICK HERE TO VOTE FOR MARTIN.